The Hatteras Hammocks Factory
Walk into our 300,000-square-foot factory with preconceptions about how hammocks get made, and you're liable to have them blown straight out of the water! We know of no other hammock company that comes even close to blending the essential qualities of handcrafting, including hand-weaving of all rope for hammocks and hammock swings, with advanced manufacturing processes that permit the precision-making of core materials. The result is a wonderful balance of tradition and innovation, the Hatteras Difference.
---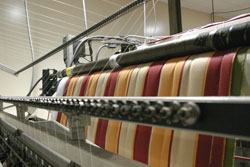 The fabric shop
Here our double-layer quilted hammocks, single-layer quick-dry hammocks and cushions for both our single and double cushioned swings are expertly sewn from richly designed, cottony-soft, all-weather fabrics. Our sewing team employs a lockstitch instead of the more common, more easily produced chain stitch; if nicked, a chain stitch can unravel a whole section of fabric in just seconds.
---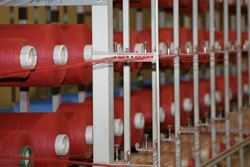 The rope shop
Starting with miles of top-quality yarn, we machine-unspool it into strands that we precision-twist and balance into DURACORD® rope. Three lengths of that new rope are next precision-twisted and balanced to create the completed, unusually strong multi-ply rope that's integral to our longstanding reputation for excellence. Finished rope is either spooled for temporary storage or wound in specific lengths onto large wooden needles for our weavers.
---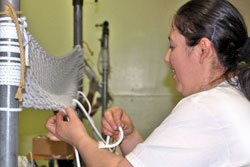 The weaving area
Here you'll find our experienced weavers not so much moving back and forth along their upright looms, but seeming almost to dance, they move so fluidly. Brandishing large wooden needles wound with our own DURACORD® rope, these highly accomplished artisans fashion rapid circles in the air, threading the rope bodies of our hammocks and hammock swings into being.
---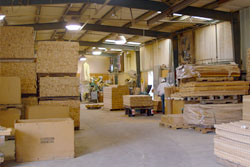 The wood shop
Here our spreader bars are precision-cut and machine-sanded to be heavier than others on the market, and counter-sink drilled to produce smooth passage for the hammock rope. This is also where the white-oak parts of our swing bodies are repeatedly hand-dipped in honey-gold marine-grade spar varnish, for great looks and long outdoor life.
---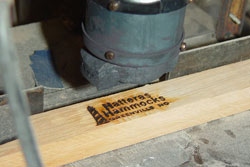 The branding area
With a hot iron and a heavy dose of pride, our Cape Hatteras Lighthouse silhouette is permanently burned into the cumaru spreader bars of each handmade Hatteras Hammock. Because once that Hatteras Hammocks brand is on there, we know our customers are counting on Hatteras innovation, workmanship and quality materials to be there, too.
---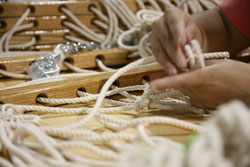 The assembly area
Here fabric and rope hammock bodies are attached to hand-woven clew knots (the ornate macraméd rope triangle at both ends of most hammocks), zinc-plated hanging hardware and hole-drilled cumaru spreader bars, and completed hammocks are thoroughly inspected for overall strength, appearance and knot and weave quality.
---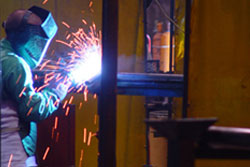 The metal shop
Here our hammock stands and swing stands are assembled from the industry's heaviest steel, 2-inch 12-guage pipe, with many poles fitted with solid-core steel spring pins for no-tools stand assembly. The foot and base poles of our Tri-Beam® Steel Hammock Stands also are attached here, using our patented 360-degree Right Connection® weld, to create an unprecedented level of stability.
---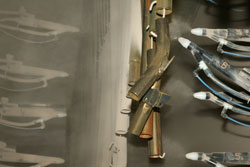 The paint line
All of our steel poles for hammock stands are finished here with our own handsome Cape Shield® Powder Coat, for increased rust protection and weatherability. Our pressure-spraying powder-coat process produces a thicker, more uniform coat, and a tighter bond between metal and coating, than is attainable through dipping, the industry's typical application method.