Through the years, our ceaseless commitment to making a better hammock has led us to both new and better materials for construction, and advanced methods of manufacture. Our goal is to offer the highest quality in every facet of our design and construction, to always better ourselves and our products. This perpetual pursuit has led us to a truly uncommon approach to hammock-making, blending handcrafting and hand-weaving with state-of-the-art manufacturing processes that allow us to bring advanced durability and streamlined beauty to you and your family's own quest for heightened relaxation.
Innovation in pursuit of supreme relaxation – that's the Hatteras Difference!
---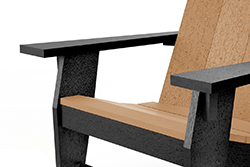 Hatteras DURAWOOD®
At Hatteras Hammocks we are continuously striving to create quality outdoor products that are stylish and durable. The Hatteras Outdoors Collection is made with DURAWOOD, a high-density polyethylene or HDPE, made from recycled plastic. Heavier and more sturdy than natural wood, DURAWOOD® can withstand the most extreme weather and can be left outdoors all year long. This nonabsorbent synthetic lumber makes our outdoor furniture virtually maintenance-free and indestructible.
Eco-Friendly DURAWOOD®: DURAWOOD® is a 3/4"-1" lumber, compared to 1/2" thick offered by our competitors, that's made from densely compressed recycled plastic. It contains no waste-wood fiber so it won't absorb any water and won't rot, splinter or crack. DURAWOOD® is fade resistant and will never require paint, stain or any kind of sealant.
Mortise and Tenon Joints: We use this ancient form of carpentry, where board meets board, to allow our furniture to fit together and help make it sturdier; rather than just being held together with nuts and bolts. Interlocking peg/hole connection used in key 90-degree board-into-board joints.
K-Joint: Our patent-pending interlocking joint connection expanding on the strengths of standard rabbet and dado joints. Used for joints requiring the most stability/firmness.
Dowel Joint: Precision peg-and-groove connection. Limits play at crucial connection points.
---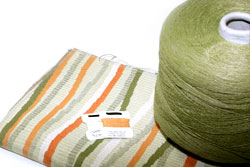 Hatteras Fabric
Exceptional all-weather fabrics
Resistant to staining, fading, rot, mold and mildew
DURACORD® softness rivals that of cotton
For our line of highly designed quilted and quick-dry fabric hammocks, we use only exceptional all-weather fabrics, guaranteed both durable and soft. Our own top-of-the-line is DURACORD®, a solution-dyed synthetic we helped design to be resistant to staining, rot, mold and mildew. DURACORD® is also among the most colorfast outdoor fabrics available; it's solution-dyed, so colors aren't applied to the finished fabric through washing or dipping, but go in during the making of the thread fiber itself, becoming a permanent part of the final fabric.
To be so tough against the elements, DURACORD® is also surprisingly soft – its softness, in fact, rivals that of cotton. Now, that's a big claim, and we know it! So we've put it to an expert, a man whose family has been in the cotton business for generations. We asked him: Is DURACORD® as soft? He declined flat-out to even comment! True story.
For additional pillowy comfort, our quilted hammocks are lockstitched over a plush center of all-weather polyester fiberfill batting.
---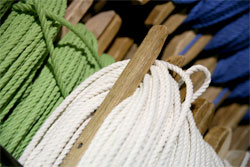 Hatteras Rope
More rope = a stronger, more secure, more comfortable hammock
Outdoor durable synthetics that rival the softness of cotton
Colorfast color options
We offer two varieties of rope through this site, both of them synthetic: bright-white soft-spun polyester and our own top-of-the-line DURACORD®, available in several colors. But you'll find no cotton here.
While desirable to many rope-hammock lovers for the tradition it represents, cotton has inherent limitations. As an organic material, cotton rope requires a constant commitment to long-term upkeep; the rope must routinely be brought in out of bad weather and great pains need to be taken to keep it clean and well-maintained. Now that cotton is no longer the only game in town for exceptional rope-hammock comfort, we're thrilled to be able to offer alternatives that deliver unsurpassed durability without the rigorous upkeep demands, all the while sacrificing nothing in comfort.
In years past, synthetics were just terrible for comfort – rough, scratchy and ultimately unpleasant against the skin. But with such outstanding synthetic options now available as soft-spun polyester and our very own DURACORD®, both of which genuinely rival the softness of cotton, our move away from natural-fiber rope is a natural progression in our longstanding mission of relaxation innovation!
---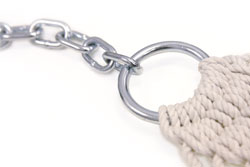 Hatteras hanging hardware
Industry's largest hanging hardware
Industry's heaviest steel
Simply put, ours is the largest in the industry. Not only that, but we use the heaviest steel to boot. And for very good reason! On a hammock or swing, it's the hanging chains and rings that bear the brunt of the stress.
A few other key features of our hanging hardware:
We plate all of it with zinc to protect against rust and ensure an overall longer outdoor life. That chrome shine is also mighty pretty to look at!
Our signature one-piece ring-and-chain and adjustable hook means less aggravation, since your chain assembly won't fall apart on you during hammock storage.
Each of our hammocks comes with tree hooks, the hardware you'll need should you decide to permanently sling your new slice of relaxation between a couple of shady trees, or between beams on a porch or deck.
---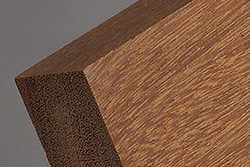 Hatteras Wood
Chosen not just for how good it looks, but also for how well it holds up.
Cumaru, also known as Brazilian teak. We use this incredibly dense, nonabsorbent South American hardwood for nearly all of our hammock and single-swing spreader bars, and for our incomparable line of Hatteras Outdoors furniture, because cumaru resists rotting, doesn't split after being out in the sun a long time, is unattractive to boring insects and naturally weathers to a beautiful silver-gray. Just how tough is it really? Cumaru has been used for years for slats in the Atlantic City boardwalk, which has twice caught fire in that time; the cumaru pieces didn't burn! All of our own cumaru is harvested only from managed forests.
Southern cypress. Our award-winning Roman Arc® hammock stands and swing stands are crafted from slats of this distinctive watertight softwood, which has little appeal to boring insects. We employ a radio-frequency gluing system for precision-binding the cypress slats, finally applying a coat of boiled linseed oil to protect and nourish the wood.
---
Hatteras Metal
Industry's heaviest steel
Tri-Beam® Steel Hammock stand features no-tools assembly
Right Connection® 360-degree weld
Cape Shield® Powder Coat
We use the heaviest-weight steel in the industry for our stands – for safety, sturdiness and solid good looks.
Our Tri-Beam® Steel Hammock Stand, our original design, couldn't be any simpler to assemble – no tools needed! The steel-core spring pins pop easily into place, holding the heavy poles safe and secure.
We use our signature Right Connection® 360-degree welding process to secure the foot and base poles of our Tri-Beam Steel Hammock Stands. The weld is applied where one pole sits inside a half-moon groove punched in the other; unlike with traditional metal-atop-metal welds, we've never once seen a Right Connection fail.
We finish all of our steel products with our handsome, lightly-textured Cape Shield® Powder Coat, among the most Earth-friendly industrial coatings on the market. Cape Shield, applied through an electrostatic high-pressure-spraying system, goes on thicker and more uniformly, and with a tighter bond between metal and coating, than is possible through the industry's more common dipping-application method.