Our goal at Hatteras Hammocks is to get every order packed and shipped as quickly as possible. Many in-stock items are guaranteed to ship out the same day, as long as the order is processed before 3:00 pm EST Monday-Friday. Please note that our shipping department is closed on Weekends and all orders placed after 3:00 pm on Friday will be shipped out the next business day! Prices for shipping are for the continental US. For orders to HI, AK and other US Territories, please contact us.
To figure out how long it may take for your package to reach its shipping destination once it's left us, check the maps below. Need it quicker? We also offer expedited shipping; call us toll-free at 877.601.9967 for rate quotes.
We ship FedEx Ground and FedEx SmartPost. Please note that FedEx Ground delivers on Saturday, but not on Monday. That means that if your shipping destination falls somewhere in FedEx's 2-day delivery zone and we ship your order out on a Thursday, FedEx will deliver it that Saturday. If you're in FedEx's 4-day delivery zone, that same order will be delivered the Tuesday immediately following the weekend.
For large orders, shipments may go freight. This is to ensure your packages ship together and arrive together. For special requests please call 877.601.9967.
*Please call Customer Service for expedited shipping (877-601-9967).
---
FedEx Ground Map Below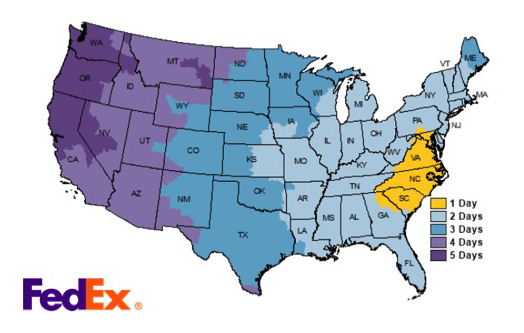 ---
FedEx SmartPost Map Below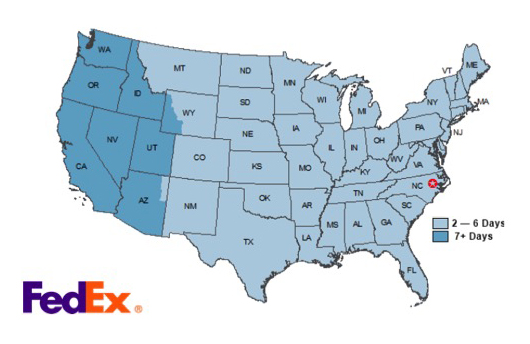 ---
Invoicing
To make gift-giving easier, the invoices we send with our orders do not include pricing and payment information. Of course, if you're sending a Hatteras HammocksHatteras Hammocks item as a present to someone, it still never hurts to let them know to be expecting a package!
Tracking your order
Once your order has shipped, you can always check here to track it. If you provided us with an e-mail address in your order, then we can also send you tracking information directly. Please note, though, that some e-mail providers may automatically block incoming mail from our domain name, so you may need to "instruct" your e-mail program to allow mail from hatterashammocks.com in order to receive order and shipping confirmation from us.
Damage during shipping
Thankfully, we rarely see this happen, though parts certainly do sometimes get damaged during shipping. If this should ever happen to something you've ordered from us, we'll be happy to send you a replacement as soon as possible, and we'll contact FedEx ourselves for claims and damages. Please do note, however, that we cannot use rush delivery to send a replacement for something that's been damaged in shipping. We work very hard to keep our shipping costs as low as we can so we can pass along those savings to our customers.
Address Change Policy
Please verify your email order confirmation that your shipping address is correct and call customer service immediately if you need to change the shipping address. In the event that you wish to change the shipping address once the order has shipped, there will be a fee to reroute the package. This fee will vary per order, depending on where the package is in transit and the desired location. Please avoid this fee by double checking the address on your order confirmation.
Cancellation Policy
At Hatteras Hammocks, we do our best to process and ship orders quickly. Because of this, there is not always a lot of time between when an order is placed and when it is shipped. Please verify that your order is correct before placing it because once an order has shipped, we are not able to make changes or cancel it. If you need to change or cancel an order that has shipped, you will need to contact us for a return authorization. Customers are responsible for the return/rerouting shipping cost. For more information please see our Return Policy above.
Delayed or Refused Delivery
FedEx will make three attempts to deliver your packages to your house or shipment destination. If no one is there to receive the package, FedEx will leave a notice stating that they have made an attempt and when they will make their next attempt, as well as their contact information. If you prefer that your package is left at your door, you may leave a signed notice giving FedEx permission for your package to be left outside your home without a signature. After three unsuccessful delivery attempts by FedEx, packages will be sent back to Hatteras Hammocks. In this case, the customer will be responsible for the full shipping costs as estimated by FedEx for reshipment.
All refused Deliveries are treated as a regular return. If you refuse a delivery of any order placed on Hatteras Hammocks, the package will be returned to our warehouse. You will receive a refund for the merchandise and tax paid minus the return shipping charges. For more information please see our Return Policy above.
---
We back our exceptional products with exceptional customer service. Questions or comments? Please call us toll-free at 877.601.9967.